postmoderne jazz
Jeremy Pelt is een ijzersterke trompettist in de traditie van Lee Morgan en Freddie Hubbard.
Hij is thuis in zowel straight-ahead jazz als fusion.
 Op 14 februari speelt hij met zijn nieuwe quintet in het Bimhuis; een absolute sterrencast met daarin vibrafonist Steve Nelson (Dave Holland Quintet) en drummer Bill Stewart (John Scofield, Pat Metheny).
Jeremy Pelt – trompet, Steve Nelson – vibrafoon, Danny Grissett – piano, Peter Washington – bas, Bill Stewart – drums.
https://www.youtube.com/watch?v=ojJj6KzbZoM
Zijn nieuwe album is net uit en heet Tale, Musings and other Reveries
https://soundcloud.com/your-peltness/harlem-thoroughfare
Over de CD Talented Mr. Pelt uit 2011 werd geschreven (in vertaling):
"Pelt is een technisch wonder. Hij speelt met groot gemak ingewikkelde solo's; brengt prachtige ballads op een smaakvolle manier, en nooit ontbreekt flair of gevoeligheid. Tegelijkertijd is 'Talented Mr. Pelt' een groeps-statement en geen individuele showcase. Pelt wil bewust niet domineren, en de band zorgt voor een mix van spontaniteit en precisie, waardoor het een genot is om naar deze nummers te luisteren. " (Ron Wynn in Jazz Times)
https://www.youtube.com/watch?v=u2bED8cWeZM
Hij speelde en nam op met grootheden als Roy Hargrove, Ravi Coltrane, Greg Osby, Cassandra Wilson. Verder is/was hij te vinden in de Mingus Big Band, Ralph Peterson Quintet, Lewis Nash Ensemble, Cannonball Adderley Legacy Quintet met Louis Hayes, Vincent Herring, en de Frank Foster Loud Minority Big Band. Hij maakte op zijn eigen naam 13 CD's. De meest reecente daarvan is in januari uitgebracht. In 2012 en 2014 bracht hij overigens ook twee keer een nieuwe cd uit.
https://www.youtube.com/watch?v=6A4Nc_eLrz4
promo video voor de CD Water & Earth 2013, met kijkje in de keuken
https://www.youtube.com/watch?v=tVNjCwGCcTw
van Face Forward Jeremy (2014)
https://www.youtube.com/watch?v=L0fyTz-iAcA
Vibrafonist Steve Nelson begon zijn carrière in de jaren zeventig, daarbij het door zijn grote voorbeeld Milt Jackson gebaande pad van de straight ahead jazz volgend. In de jaren 80 was Nelson de vibrafonist van o.a. Bobby Watson, Mulgrew Miller, Donald Brown, Geoffrey Keezer en Lewis Nash. Hij ontwikkelde een harmonisch open geluid, beïnvloed door de innovaties van malletspeler Bobby Hutcherson, en dat bracht hem in de band van bassist Dave Holland.
https://www.youtube.com/watch?v=kpsxeZrWK28
Bill Stewart is een veelzijdige drummer: hij speelde funk bij altsaxofonist Maceo Parker, mainstream jazz bij gitarist Jim Hall en we zien hem de laatste jaren ook in het trio van John Scofield (& Steve Swallow).
Als drummer onderscheidt Bill Stewart zich door zijn focus op melodie en de polyritmiek en de verschillende lagen daarin. Dat wil zeggen, dat Stewart in zijn improvisaties niet zozeer technisch vertoon of power etaleert, maar het zoekt in de gelaagdheid van motieven en melodieën.
Hij beschikt over een mooi 'toucher' en dynamische precisie, en speelt helder en precies.
https://www.youtube.com/watch?v=kYdi13sYi-c
Eigen groepen waren o.a. Think Before You Think, met bassist Dave Holland, pianist Marc Copland, en saxofonist Joe Lovano.En ook een band met trompettist Eddie Henderson, saxofonist Lovano, pianist Bill Carrothers en bassist Larry Grenadier.
In 2005 begon hij zijn Bill Stewart Trio, met Kevin Hays and Larry Goldings, waarin orgel én piano naast drums voor een ongebruikelijke bezetting zorgen.
Verder speelde hij o.a. met Chris Potter, Lee Konitz, Michael Brecker, Pat Metheny en Peter Bernstein.
ENGLISH
modern creative postmodern jazz
Jeremy Pelt is a powerful trumpeter in the tradition of Lee Morgan and Freddie Hubbard.
He is good at both straight-ahead jazz and fusion. On February 14, he plays with his new quintet at the Bimhuis with an absolute star cast in which vibraphonist Steve Nelson (Dave Holland Quintet) and drummer Bill Stewart (John Scofield, Pat Metheny).
Jeremy Pelt – trumpet, Steve Nelson – vibraphone, Danny Grissett – piano, Peter Washington – bass, Bill Stewart – drums
His new album 'Tale, Musings and other Reveries' has just been released.
About an older CD 'Talented Mr. Pelt' from 2011 was written: 'Pelt is a technical marvel. He executes intricate solos with ease, plays gorgeous ballads in a tasteful manner, and never lacks flair or sensitivity. At the same time, The Talented Mr. Pelt is a group statement rather than an individual showcase. Pelt deliberately doesn't dominate the spotlight, and the band achieves a blend of spontaneity and precision that makes these songs a pleasure to hear.' (Ron Wynn in Jazz Times)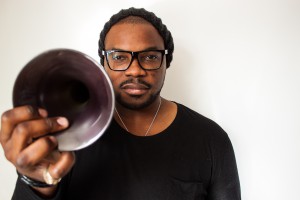 Pelt played and recorded with great musicians like Roy Hargrove, Ravi Coltrane, Greg Osby, Cassandra Wilson. Furthermore in the Mingus Big Band, Ralph Peterson Quintet, Lewis Nash Ensemble, Cannonball Adderley Legacy Quintet with Louis Hayes, Vincent Herring, and Frank Foster Loud Minority Big Band. As a leader he made 13 CDs. The most recent one is released in January. In 2012 and 2014 he also released two new albums.
Vibraphonist Steve Nelson began his career in the seventies, following the footsepts of his idol Milt Jackson on the path of straight ahead jazz. In the 80's, Nelson was the vibraphonist of ao Bobby Watson, Mulgrew Miller, Donald Brown, Geoffrey Keezer and Lewis Nash. He developed a harmonically open sound, influenced by the innovations of malletplayer Bobby Hutcherson, and that got him into the bassist Dave Holland's band.
Bill Stewart is a versatile drummer, playing from funk with saxophonist Maceo Parker to mainstream jazz with guitarist Jim Hall. In recent years in the trio of John Scofield (& Steve Swallow).
As a drummer Bill Stewart is characterized by his focus on melody and layerd polyrhythms. Meaning that Stewart in his improvisations is not so much searching for technical display or powerplay, but it is looking into the layering of motifs and melodies.
He has a beautiful 'toucher' and dynamic precision, and plays clear and precise.
Own groups are ao Think Before You Think, with bassist Dave Holland, pianist Marc Copland, and saxophonist Joe Lovano. Also a band with trumpeter Eddie Henderson, saxophonist Lovano, pianist Bill Carrothers and bassist Larry Grenadier. In 2005 he began his Bill Stewart Trio, with Kevin Hays and Larry Goldings, whith the unusual cast of organ and piano in addition to drums. He also played with Chris Potter, Lee Konitz, Michael Brecker, Pat Metheny and Peter Bernstein.