Scroll down for english version
Dynamisch, poëtisch & onverwachte electronica
Bulgaarse volksmuziek zit vol onregelmatige maatsoorten, en er wordt vaak prachtig unisono gezongen met nasale krachtige vrouwenstemmen.
Op zijn laatste CD verwerkte jazzpianist Dimitar Bodurov een Bulgaars (vrouwen)koor in zijn muziek; knipte het een beetje in, en gaat er met zijn trio mee aan de haal. Het trio speelt de melodie & accenten van de koorzang mee.
De van oorsprong Bulgaarse, in Amsterdam gevestigde Dimitar Bodurov blijft gefascineerd door traditionele zang en melodie uit zijn geboorteland, die hij verwerkt in zijn composities.
Toch klinkt zijn trio helemaal niet als een folkgroep, maar juist uitgesproken hedendaags, met strak samenspel in onregelmatige maatsoorten. Dynamische muziek, energiek, maar ook poëtisch en bijzonder door het gebruik van onverwachte electronische effekten en bewerkte stemmen.
Stamp Around  is het meest recente album van zijn Bodurov trio (uitgebracht op zijn eigen label OPTOMUSIC)
Op deze vijfde trio-CD gaat hij verder met zijn muzikale verhaal 'Stamps from Bulgaria', een serie stukken die gebaseerd zijn op elementen uit de Bulgaarse volksmuziek. Zoals ook op de vorige albums zijn het opnieuw originele composities waarin hij die Bulgaarse muziek vermengt met jazz en hedendaagse technieken (eletronica, bewerkte koorstemmen).

Op zijn vorige trio CD werkte hij samen met de beroemde Bulgaarse kaval speler Theodosii Spassov.  (Seven Stamps, Challenge records).
Bodurov is ook lid van ensemble The Bulchemists: zes kunstenaars uit de Bulgaarse jazz diaspora, verzameld uit alle hoeken van Europa en de VS – allemaal belangrijke vertegenwoordigers van de jazz-scènes in de steden waar ze wonen.

Verder heeft hij een duo Neophobic, dat zich een beetje meer bezighoudt met elektronica (met de Duitse drummer Jens Duppe – ook in zijn trio), en speelt hij met zangeres Margriet Sjoerdsma.
Bodurov is ook actief als organisator: van Jazz en Vino (2009) – serie concerten met een liefdadigheidsdoel in Varna, Bulgarije; van het Keys & Stix Festival – duetten van piano en drums. Hij is artistiek leider van het Radar festival voor Muziek-zonder-Grenzen.
In 2012 begon hij met Optomusic – een opname-studio en ook de naam van zijn eigen label.
Dimitar speelde meerdere instrumenten: trombone, piano, saxofoon en drums.
Na zijn afstuderen op trombone in Varna (BG) studeerde hij 2 jaar jazz piano in het Conservatorium in Sofia. Sinds 2000 woont hij in Nederland. In 2004 studeerde hij cum laude als jazzpianist af aan het Rotterdams Conservatorium. Daarna studeerde aldaar ook jazz compositie en arrangeren.
ENGLISH
Dynamic, poetic, unexpected electronics
Bulgarian folk music is quite odd-meter, and often full of beautiful and strong unison singing with powerful nasal female voices.
On his latest CD jazz pianist Dimitar Bodurov processed a Bulgarian (women) choir in his music; edited it a little, and runs of with it. The trio plays the melody and accents of the choral singing.
Originally from Bulgaria, based in Amsterdam Dimitar Bodurov remains fascinated by traditional songs and melodies from his homeland, which he incorporates into his compositions.
However the trio doesn't sound like a folk group at all, but rather pronounced contemporary, with tight interplay in the odd meter stuff. Dynamic music, energetic, but also poetic and special because of unexpected electronic effects and edited voices.
Stamp Around is the latest album from his trio Bodurov (released on his own label OPTO MUSIC): https://optomusic.bandcamp.com/album/stamp-around
On this fifth trio CD he continues his musical narrativve 'Stamps from Bulgaria', a series of pieces based on elements from the Bulgarian folk music. As on his previous albums here also original compositions in which Bulgarian music is mixed with jazz and contemporary techniques (eletronica, processed choir voices).
On his previous trio CD he collaborated with the renowned Bulgarian kaval player Theodosii Spassov. (Seven Stamps, Challenge Records).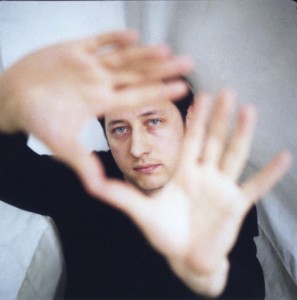 Bodurov is also a member of ensemble The Bulchemists: six artists from the Bulgarian jazz diaspora, gathered from all over Europe and the US – representatives of the jazz scene in the cities where they live. He also has a duo Neophobic, which is a little more involved in electronics (with German drummer Jens Duppe, and he plays with singer Margriet Sjoerdsma.
Bodurov is also active as an organizer: Jazz and Vino (2009) – series of concerts with a charitable purpose in Varna, Bulgaria; the Keys & Stix Festival – duets with piano and drums. He is artistic director of the Radar Festival for Music-Without-Borders.
In 2012 he began Opto Music – a recording studio and also the name of his label.
Dimitar played several instruments: trombone, piano, saxophone and drums.
After graduating trombone in Varna (BG) he studied 2 years jazz piano at the Conservatory in Sofia. Since 2000 he has lived in the Netherlands. In 2004 he graduated with honors as a jazz pianist from the Rotterdam Conservatory. There he also studied jazz composition and arranging.