Scroll down for english version
Spannend, veelbelovend, intens
De Britse pianist John Escreet is iemand die abstractere muziek toegankelijk weet te brengen, een grote kwaliteit! Zijn muzikale belangstelling is heel breed en loopt van Frank Zappa, elektronische dansmuziek van nu, hedendaags gecomponeerd tot moderne avant-jazz en vrije impro.
John Escreet ontwikkelt zich nog steeds, zijn muziek wordt steeds spannender en hij gaat alleen maar beter spelen.

Zijn trio met bassist John Hébert en drummer Tyshawn Sorey bestaat sinds 2010. Het repertoire varieert van losse thema's en ideeën tot zwaar doorgecomponeerd materiaal, tot aan vrije improvisatie. De musici kunnen alle soorten muziek aan, ook heel extreme. 
Met dit 'working trio' ging hij een samenwerking aan met de legendarische Britse free jazz-saxofonist Evan Parker: Sound, Space and Structures. Allemaal blinken ze uit in zowel uitdagende composities als verrassende improvisaties. Op de CD met Evan Parker wordt echter van A to Z vrij geïmproviseerd.
10-2-2016 Bozar Brussel, 12-2 Bimhuis Amsterdam, 13 -2 LantarenVenster Rotterdam

Evan Parker is groot inspirator van de Britse avant-garde.  Deze veteraan annex vernieuwende saxofonist ontwikkelde een opzienbarende eigen improvisatiestijl met circulaire ademhaling, dubbeltonen, boventonen en live-sampling. Vooral zijn vaardigheid in 'circular breathing' (alsmaar doorspelen zonder te stoppen om adem te halen. Tonen uit-blazen en tegelijkertijd door je neus in-ademen) stelt hem in staat om extreem te spelen, zowel letterlijk als figuurlijk adembenemend!

10 jaar geleden vertrok Escreet naar New York, om te studeren bij zijn grote voorbeelden Kenny Barron en Jason Moran.  Daar ging hij samenspelen met toonaangevende musici uit de alternatieve jazzscene van Brooklyn. Drummer Tyshawn Sorey bijvoorbeeld, en contrabassist John Hébert. Ook deed hij een project met grootheden David Binney (altsax) en Ambrose Akinmusire (trompet).
Escreet bracht 6 albums uit op zijn eigen naam en heeft behalve dit trio ook een eigen quintet (gehad). Eveneens is hij een veelgevraagd sideman; hij werkte met onder meer Antonio Sanchez's Migration band, David Binney, Jamie Baum.
In 2010 speelde hij ook in het project the Story van de (Nederlandse, maar toen in de US wonende) altsaxofonist Lars Dietrich.
ENGLISH
Exciting, promising intense
British pianist John Escreet is someone who can make abstract music accessible, a great quality! His musical interest is very broad, ranging from Frank Zappa, electronic dance music of today, contemporary composed to modern avant-jazz and free improvisation. 
John Escreet is still growing, his music becomes more exciting and his playing is still improving.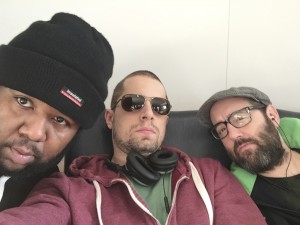 (photo: 'waiting at the airport')
His trio with bassist John Hébert and drummer Tyshawn Sorey was founded in 2010. The repertoire ranges from individual themes and ideas to heavy through-composed material, to free improvisation. The musicians have the capacity to play all kinds of music, even the very extreme. With this "working trio" John started a collaboration with the legendary British free jazz saxophonist Evan Parker: Sound, Space and Structures.
All the musicians excel in both challenging compositions and surprising improvisations. 
The album with Evan Parker, however, is freely improvised all together. 
10-2-2016 Bozar Brussels, 12-2 Bimhuis Amsterdam, 13 -2 LantarenVenster Rotterdam

Evan Parker is a great inspirer of the British avant-garde. This veteran annex innovative saxophonist developed a remarkable own improvisation style with circular breathing, double tones, overtones and live sampling. Especially his skill in "circular breathing" (constantly playing without stopping to breathe. Blowing out the tones, while inhaling through the nose) allows him to play extremely, both literally and figuratively breathtaking!

10 years ago Escreet moved to New York to study with his heroes Kenny Barron and Jason Moran. There he went to play together with leading musicians from the alternative jazz scene in Brooklyn. Drummer Tyshawn Sorey for example, and bassist John Hébert. He also did a project with greats David Binney (alto sax) and Ambrose Akinmusire (trumpet).
Escreet released six albums in his own name and also has/had in addition to this trio his own quintet. He also is a frequently asked sideman; he worked with ao Antonio Sanchez's Migration band, David Binney, Jamie Baum.
In 2010 he also played in the project The Story of the (Dutch, but then living in the US), alto saxophonist Lars Dietrich.