English translation below
Rauwe Muziek
Haar geluid is rauw en direct, haar muziek laveert tussen rock, jazzimpro en noise.
Right in Your Face is de muziek van gitaartalent Ava Mendoza . Grunge Muziek! Zij en haar band Unnatural Ways maken overal naam met vlammende optredens. Hun muziek wordt omschreven als 'complex heavy rock, avant-jazz and warped, noisy blues', met veel ruimte voor improvisatie.
Het Bimhuis geeft haar Carte Blanche om een concertavond samen te stellen. Ze heeft hiervoor de in Amsterdam woonachtige Amerikaan  John Dikeman (saxofoon) uitgenodigd haar band Unnatural Ways te komen versterken.
Het concert is op 1 april 2016 en is ook live (en achteraf) te horen via de live stream van Bimhuis Radio
.
Ava Mendoza – gitaar/zang, Tim Dahl – bas, Max Jaffe – drums/percussie & special guest John Dikeman  – sax
.
De nieuwste plaat van Unnatural Ways verschijnt binnenkort op het label Tzadik van John Zorn
Ava Mendoza is thuis in veel gitaarstijlen, van klassiek tot blues en de avontuurlijke experimenten van haar leermeesters Nels Cline (Wilco) en Fred Frith. Haar gitaarspel balanceert tussen melodie en atonaliteit, tussen schoonheid en rauwe abstractie. 
Ze speelde met talloze internationale musici, maar haar belangrijkste project is Unnatural Ways uit Brooklyn, New York.
Luister wat ze doet met de amerikaanse traditional Good Night Irene!

Ava Mendoza komt uit San Francisco, woont in New York.
 Ze is heel veelzijdig en virtuoos en heeft een muzikale achtergrond in rock, jazz en experimentele muziek.
 Naar eigen zeggen zoekt ze altijd – in wat voor muzikale situatie dan ook – naar expressiviteit, energie en een groot klankgebied.
 Ze gebruikt in haar spel veel effecten, haar geluid is meestal rauw en direct.
 Guitar World noemde haar een van de "10 Female Guitarists You Should Know".
 Haar belangrijkste groep is Unnatural Ways.
Eerst wilde ze liever saxofoon spelen:

(deel 3 en 4 van deze docu zijn ook op Youtube te vinden)
Ze speelde oa met avant gitaristen Fred Frith, Nels Cline, bassist Jamaaladeen Tacuma, popgroep Tune-Yards, drummer Tony Buck (The Necks). Maar ook met Nederlandse musici: bassist Luc Ex, drummer Gerri Jaeger, gitarist Raphael Vanoli (Knalpot)
ENGLISH
Raw Music
Her sound is raw and direct, her music toggles between rock, jazz improvisation and noise.
Right in Your Face is the music of guitar talent Ava Mendoza. Grunge Music! She and her band Unnatural Ways are making name everywhere with flaming performances. Their style is described as 'complex heavy rock, avant-jazz and warped, noisy blues', with lots of room for improvisation.
The Bimhuis offers her Carte Blanche to put together a concert evening. She invited the Amsterdam-based American John Dikeman (saxophone) invited to come and play with her band. The concert takes place on the 1st of april and can be heard as well through the live stream of Bimhuis Radio!
Ava Mendoza guitar / vocals, Tim Dahl bass, Max Jaffe drums / percussion and special guest John Dikeman sax
A new album of Unnatural Ways soon appear on the label Tzadik John Zorn.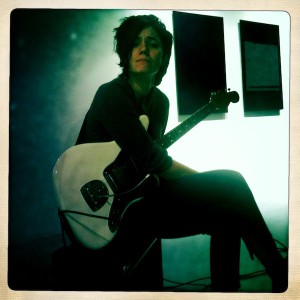 Ava Mendoza has mastered many guitar styles, from classical to blues and the adventurous experiments of her former teachers Nels Cline (Wilco) and Fred Frith. Her guitar playing balances between melody and atonality, between beauty and raw abstraction. She has collaborated with countless international musicians, but her main project is Unnatural Ways from Brooklyn, New York. The first album of the band recently appeared.
Ava Mendoza is from San Francisco, lives in New York. She is very versatile and virtuosic and has a background in rock, jazz and experimental music. She herself says she's always looking for expressivity, energy and a wide sound field – in any musical situation. She uses a lot of stompboxes, her sound is mostly raw and direct. Guitar World named her one of "10 Female Guitarists You Should Know." Her main group is Unnatural Ways.
She played with avant guitarist Fred Frith, Nels Cline, bassist Jamaaladeen Tacuma, rock band Tune-Yards, drummer Tony Buck (The Necks). But also with Dutch musicians: bassist Luc Ex drummer Gerri Jaeger, guitarist Raphael Vanoli (Knalpot)