Scroll down for English version
De 2e van zeven blogs over het Northsea Jazz Festival 2017, dat plaatsvindt op 7,8 en 9 juli in Ahoy, Rotterdam.  In aflevering drie tot en met zeven van deze serie volgen nog: trompettist Avishai Cohen (USA); pianist David Helbock (Oostenrijk); Dinosaur (Engeland); pianist Robert Glasper (USA); pianist McCoy Tyner (USA).
LABtrio     vrijdag 7 juli    Volga 19:00

Modern Creative
Het zijn twintigers, maar hun trio klinkt heel volwassen.
 Drummer Lander Gyselinck, bassiste Anneleen Boehme en pianist Bram de Looze laveren in hun muziek tussen jazz, urban jazz, en improvisatie, en klinken soms toch ook weer klassiekig. Ze kijken muzikaal wijd om zich heen: naast jazz en improvisatie zijn ook klassieke muziek, electronische muziek en hiphop inspiratiebronnen. Hoe dan ook is het een avontuurlijk ensemble, dat aan de ene kant veel vrijheid neemt om te experimenteren, maar aan de andere kant ook werkt met vaste gecomponeerde strukturen.

Naast eigen composities brengt LABtrio ook covers, zoals de muziek/soundtrack van Twin Peaks op hun eerste album Fluxus en twee verrassende bewerking van stukken van J.S Bach op hun laatste album.
Het trio bestaat al tien jaar;  de musici zijn er dus mee begonnen toen ze nog echt jong waren. 
In eigen land viel het trio meteen op: al in 2007 ontving de groep diverse prijzen. Hun debuut Fluxus werd uitgeroepen tot een van de beste cd's van 2013. Op het tweede album uit 2016 'The Howls Are Not What They Seem'  werkten ze samen met de New Yorkse cellist Christopher Hoffman en saxofonist Michaël Attias. De CD werd geroemd en bracht hen in internationale erkenning.

Op hun derde album Nature City liet de groep zich inspireren door klassiek, pop en elektronica. 

De twee stukken van Bach op Nature City zijn Variation 15 (Goldberg variaties) en Fugue. Je zou bijna denken "doe het niet!" – als het gaat over het verjazzen van Bach. Maar LABtrio maakt er echt iets spannends en goeds van.

Drummer/componist Lander Gyselinck is een buitengewoon productief musicus.
Van jongs af aan een opvallend talent, heel creatief, en dat uit hij in heel verschillende bands en projecten (STUFF, Beraadgeslagen, Ragini Trio, Howard Peach)
En ja – daar mocht hij al meerdere prijzen voor ontvangen, zoals de Music Industry Award (MIA) en de Cultuurprijs 2015. In 2009 won hij de prijs voor "Beste solist" en won zijn band LABtrio de prijs voor "Beste groep" en de "Publieksprijs" op de XL-competitie van de Brussels Jazz Marathon.[15] In 2010 won hij de Toots Thielemans Jazz Award en in 2012 de SABAM-prijs voor jong talent.
Hij richtte LABtrio op.

Pianist-componist Bram De Looze werkte oa met Dre Hocevar Trio en ook solo met Piano E Forte.
Hoewel Anneleen Boehme het meest bekend is als bassiste van LABtrio, speelt ze ook in andere bands zoals Frie Maline, Saragon en GIZMO, en met kleinkunstzangeres Mira. Samen met zangeres Fien Desmet heeft ze een duo en componeert ze ook muziek voor theaterproducties. Ze is kortom heel veelzijdig en soleert ook graag en moeiteloos.
ENGLISH
The 2nd of six blogs about the Northsea Jazz Festival 2017 on 7, 8 and 9 July in Ahoy, Rotterdam.
In episode three to seven of this series will be highlighted trumpeter Avishai Cohen (USA); Pianist David Helbock (Austria); Dinosaur (England); Pianist Robert Glasper (USA); Pianist McCoy Tyner (USA).
LABtrio 
Friday 7 July Volga 19: 00
Modern Creative
They are only in their twenties, but their trio sounds very mature. The music of drummer Lander Gyselinck, bassist Anneleen Boehme and pianist Bram de Looze navigates between jazz, urban jazz and improvisation, but sometimes sound classical as well. They have a broad musical orientation: next to jazz and improvisation also classical music, electronic music and hip hop are sources of inspiration. In any case, it is an adventurous ensemble, that takes the liberty to experiment, but on the other hand also works with composed structures.
In addition to its own compositions, LABtrio also plays some covers like for instance Twin Peaks's soundtrack on their first album Fluxus and two surprising version of J.S Bach's pieces on their last album.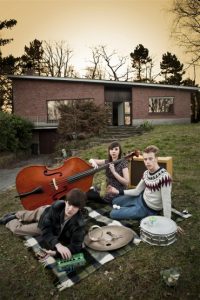 The trio has been around for ten years, so the musicians started this when they were really young. In their own country, the trio immediately stood out: in 2007, the group received various awards. 
Their debut Fluxus was named one of the best CDs of 2013.
On the second album of 2016, The Howls Are Not What They Seem, they worked with New York cellist Christopher Hoffman and saxophonist Michaël Attias. The CD was praised and brought them international recognition. On their third album Nature City, the group was inspired by classical music, pop and electronics.
The two pieces of Bach at Nature City are Variation 15 (Goldberg variations) and Fugue. You might  think "don't do it!" – when it comes to Bach in combination with jazz. But LABtrio succeeded in creating something exciting and good.
Drummer/composer Lander Gyselinck is a very productive musician. He was recognized as a remarkable talent from the beginning. He's very creative and active in many different bands and projects (STUFF, Beaten, Ragini Trio, Howard Peach)
And yes indeed, he received several awards, such as the Music Industry Award (MIA) and the Culture Award 2015. In 2009 he won the prize for "Best Soloist" and LABtrio won theaward for  the "Best Group" and the "Public Prize" at the XL competition of the Brussels Jazz Marathon.
In 2010 he won the Toots Thielemans Jazz Award and in 2012 won the SABAM prize for young talent. He founded LABtrio.
Pianist composer Bram De Looze worked with Dre Hocevar Trio and solo with Piano E Forte. Although Anneleen Boehme is best known as bassist of LABtrio, she also plays in other bands like Frie Maline, Saragon and GIZMO, and with piano singer Mira. Together with singer Fien Desmet she has a duo and composes music for theater productions. In short, she is very versatile and also seesm to love playing solos, effortlessly as it were.