Helemaal geen Smooth Jazz
Hoekig, lyrisch, soms dreigend, soms opwindend, rock, soms onregelmatig, stevig, abstract, complex, filmisch. Ouderwets en toch modern. Intiem maar toch ruimtelijk. Wat kan ik er nog meer over zeggen?
https://soundcloud.com/reinierbaas/sets/smooth-jazz-apocalypse
De nieuwe CD Smooth Jazz Apocalypse van gitarist Reinier Baas verrast. Alweer.
Zijn kwintet The More Socially Relevant Jazz Music Ensemble is uitgebreid met 2 musici: basklarinettist Joris Roelofs en pianist Harmen Fraanje. Een geweldige aanwinst. Fraanje zorgt voor het 2e akkoord-instrument in de groep, waardoor er meer mogelijkheden zijn op dat gebied. Ook bracht hij een paar fraaie composities in, en soleert daar zelf prachtig in.
Joris Roelofs – in dit blog een tijdje terug al hevig geprezen om zijn basklarinetspel – soleert de sterren van de hemel. De blazers zijn nu 3 man sterk – en ook dat maakt het geluid rijker en voller.
Nu zijn het er dus zeven: allemaal musici die zeer hecht samenspelen. Bassist Sean Fasciani is de enige die niet soleert – maar daarentegen wel een bassist is waar je blind op kan vertrouwen en op kan bouwen. Reinier Baas – gitaar/composities, Ben van Gelder en Maarten Hogenhuis – altsax, Joris Roelofs – basklarinet; Harmen Fraanje – piano; Sean Fasciani – bas, Mark Schilders – drums

Baas speelt geweldig gitaar, met een soms ouderwets klinkende rauwe rocksound. In zijn slagpartijen klinkt hij vaak hoekig, rauw en rock; in zijn soloos hoor je de jazz-insteek langskomen. De meeste composities zijn van hem. Op de Cd staat ook nog een stuk voor solo-piano (gespeeld door en opgedragen aan pianiste Helena Basilova), waarin Baas zich naar het lijkt vrijelijk heeft laten inspireren door muziek van Debussy en Ellington. Sommige stukken op de CD doen filmmuziek-achtig aan. Niet voor niets staat er op de hoes een close-up foto van Baas, die (met natte haren in de douche) angstig en in paniek schreeuwt, als in Psycho van Hitchcock.


Reinier Baas studeerde in 2010  – met een cijfer 10 – af aan het Conservatorium van Amsterdam. Een deel van zijn studie deed hij  aan de Manhattan School of Music, waar hij o.a. les kreeg van David Liebman. Hij was finalist van de Deloitte Jazz Award; speelde verder o.a. met Stefan Lievestro. Zijn kwintet The More Socially Relevant Jazz Music Ensemble bracht 2 CD's uit, die allebei erg lovend werden ontvangen.
ENGLISH VERSION
No Smooth Jazz at all!
Rugged, lyrical, sometimes threatening, sometimes exciting, rock, broken beats, solid, abstract, complex, cinematic. 
Old-fashioned yet modern. Intimate yet spacious. What more can I say?
Guitarist Reinier Baas surprises with his new CD Smooth Jazz Apocalypse. Again .
His quintet 'The More Socially Relevant Jazz Music Ensemble' has been extended with two musicians: bass clarinet Joris Roelofs and pianist Harmen Fraanje. A great asset. Fraanje provides the 2nd chord instrument in the group, so there are more opportunities in that field . He brought in a few interesting compositions, and plays a few beautiful soloos.
Joris Roelofs – a while back already praised in this blog for his bass clarinet playing – playts tremendously beuatiful. The hornsection now consists of 3 musicians and that makes the sound richer and fuller.
So now there are so seven musicians who play very tight. Bassist Sean Fasciani is the only one not to play soloos – but instead he is a bassist you can put blind faith in.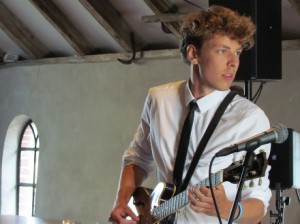 Baas plays great guitar, with some old-fashioned sounding raw rock sound. Playing rythm, he often sounds rugged, raw and rock; when playing soloos you hear the jazz approach. Most compositions are his. On the CD is also a piece for solo piano (played by and dedicated to pianist Helena Basilova), in which Baas seems to have been inspired by the music of Debussy and Ellington. 
Some pieces on the CD are like soundtracks. For a reason there is a close- up photo of Baas on the cover, where he (with wet hair in the shower ) fearfully screams in panic, as in Hitchcock's Psycho.
Reinier Baas – guitar / compositions , Ben van Gelder and Martin Hoogenhuis- alto sax , Joris Roelofs – bass clarinet ; Harmen Fraanje – piano ; Sean Fasciani – bass , Mark Scilders – drums
Reinier Baas graduated in 2010 – with a very high score – at the Conservatory of Amsterdam. Part of his study he did at the Manhattan School of Music, where he was taught by David Liebman. He was a finalist in the Deloitte Jazz Award; played ao with Stefan Lievestro. His quintet 'The More Socially Relevant Jazz Music Ensemble' released two CD's , both of which were received very well