Northsea Jazz Festival 2014 (8): PRISM featuring Dave Holland, Kevin Eubanks, Craig Taborn and Eric Harland
Intens, rauw, opzwepend
Over 3 dagen begint het Northsea Jazz Festival 2014 in Ahoy, Rotterdam. Hier vandaag de 8e in een serie van 9 blogs over artiesten op het festival.

PRISM is de nieuwste all star groep van bassist Dave Holland. Rauw gitaarspel van Kevin Eubanks, elektrische piano van Craig Taborn, intens basspel van Dave Holland en opzwepende drums van Eric Harland maken dit tot een hechte, spannende groep.
 Zondag 13 juli Hudson 18:00
Prism doet denken aan de tijd dat Dave Holland meespeelde op vernieuwende Miles Davis-albums als In a Silent Way en Bitches Brew; platen die de doorbraak van fusion jazz markeerden. PRISM speelt heel intens, maakt in de stukken  een lange opbouw, werkt geconcentreerd naar een lang uitgestelde climax. In het gitaarspel van Eubanks is bovendien de blues nooit echt ver weg. Vorig jaar kwam het album PRISM uit.
 Een spannend nieuw hoofdstuk in de monumentale carrière van Dave Holland.

Dave Holland, grootmeester in toon en ritme, bassist, componist en bandleider is nu bezig aan zijn vijfde decennium als musicus. Zijn caleidoscopische muzikale pad leidde hem van de uithoeken van vrije improvisatie tot aan zijn moderne ensembles met de filosofie die door rietblazer Sam Rivers werd uitgedragen: 'playing all of it'.
Holland begon bas te spelen als negenjarige. Op zijn zestiende ging hij van school om een carrière als professioneel muzikant te beginnen. In 1963 verhuisde hij naar Londen, waar hij drie jaar studeerde aan de Guildhall School of Music and Drama. In 1968 werd hij op uitnodiging van Miles Davis – die hem zag optreden in Londen – lid van de Miles Davis band. Hij volgde Davis naar New York en nam de platen Filles de Kilimanjaro, In a Silent Way en Bitches Brew met hem op.
Eind 1970 verliet hij deze band en speelde hij met Chick Corea, Anthony Braxton, en Barry Altschul een aantal jaren in de avant-gardejazzgroep Circle. In 1972 nam hij met Sam Rivers, Altschul en Braxton de plaat Conference of the Birds op, zijn eerste album als bandleider.
Door de jaren heen speelde Holland met velen, bijvoorbeeld Stan Getz, John Abercrombie, Jack DeJohnette, Herbie Hancock, Pat Metheny, Roy Haynes, Joe Henderson, Wayne Shorter en Brian Blade. Voor zijn werk heeft hij diverse prijzen mogen ontvangen, waaronder drie Grammy's.

In PRISM beleeft Dave Holland hij een reünie met Kevin Eubanks, die meespeelde op Hollands album Extensions uit 1989, maar daarna lang van het jazztoneel verdween toen hij 15 jaar bandleider was van The Tonight Show Band.
Hij komt uit een muzikale familie: zijn moeder was klassiek pianiste en gospelzangers, zijn vader jazzpianist, zijn broers trombonist en trompettist! Zelf speelde hij eerst viool en trompet, voordat hij overstapte naar gitaar. Hij speelde verder met o.a. Art Blakey, Roy Haynes, Slide Hampton and Sam Rivers.

(solo fender rhodes vanaf plm 8:00)
Craig Taborn – toetsenist uit New York – heeft een volstrekt eigen muzikale taal gecreëerd en is in die zin waarlijk uniek. Hij is zeldzaam getalenteerd en wordt inmiddels wijdverbreid gezien als een van de meest innovatieve toetsenisten van zijn generatie. Zijn eigen muziek is complex, meerlagig, innovatief en intens. Het is vernieuwende eigentijdse geïmproviseerde muziek. Jazz kun je het niet noemen; het lijkt soms meer hedendaagse muziek, soms zelfs minimal. 
Taborn speelt piano, maar ook synths (bv. Moog) en Fender Rhodes.
Hij speelde niet alleen jazz en vrije impro, maar ook dark ambient en techno. Hij vond inspiratie bij Cecil Taylor. In Nederland konden we hem meer dan eens zien in de bands van Dave Holland, Dave Douglas, Chris Potter en James Carter. Hij speelde met nog veel meer toonaangevende musici: David Binney, Dave King en Reid Anderson (The Bad Plus), Thomas Stanko, Drew Gress e.v.a.
Hij won meerdere prijzen, w.o. de Paul Acket Award (2012), Down Beat's Rising Star in de categorieën Piano én Electric Keyboards én Orgel. Inmiddels heeft hij 5 albums onder eigen naam uitgebracht (w.o. twee op het label ECM), en speelt hij als sideman op meer dan 70 platen.
Blog met 4 video's over Taborn HIER op deze site
ENGLISH VERSION
Northsea Jazz Festival 2014 (8): PRISM featuring Dave Holland, Kevin Eubanks, Craig Taborn and Eric Harland
Intense, raw, exciting
Sunday July 13th, Hudson 18:00
PRISM is the latest all-star group of bassist Dave Holland. The raw guitarplaying of Kevin Eubanks, electric piano of Craig Taborn, intense bassplay by Dave Holland and throbbing drums by Eric Harland make this a cohesive, exciting group. 
PRISM reminds of the time when Dave Holland played on innovative Miles Davis albums like 'In a Silent Way' and 'Bitches Brew'; albums thjat marked the breakthrough of fusion jazz. 
The band sounds very intense, working concentrated to a long-delayed climax. With Eubanks on the guitaris the blues is never very far away. Last year the album PRISM was released. 
An exciting new chapter in the monumental career of Dave Holland.
Dave Holland, master of tone and rhythm, bassist, composer and bandleader is now in his fifth decade as a musician. His kaleidoscopic musical path led him from the corners of free improvisation to his modern ensembles with the philosophy that was propagated by reed player Sam Rivers: 'playing all of it'.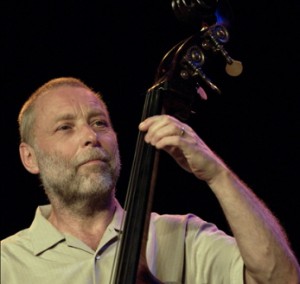 Holland started playing as a nine-year-old. At sixteen, he left school to start a career as a professional musician. In 1963 he moved to London, where he studied at the Guildhall School of Music and Drama for three years. In 1968 he was invited by Miles Davis – who saw him perform in London – to be a member of the Miles Davis band. He followed Davis to New York and recorde the albums Filles de Kilimanjaro, In a Silent Way and Bitches Brew with him. End of 1970 he left the band and played with Chick Corea, Anthony Braxton and Barry Altschul for several years in the avant-garde jazz group Circle. In 1972 he recorded with Sam Rivers, Altschul and Braxton the album Conference of the Birds, his first album as a band leader. Over the years, Holland played with many, for example Stan Getz, John Abercrombie, Jack DeJohnette, Herbie Hancock, Pat Metheny, Roy Haynes, Joe Henderson, Wayne Shorter and Brian Blade. For his work he received various awards, including three Grammys.
In PRISM Dave Holland he is experiencing a reunion with Kevin Eubanks, who appeared on the album Dutch Extensions (1989), but then disappeared from the jazz scene long when he was a bandleader of The Tonight Show Band for 15 years. He comes from a musical family: his mother was a classical pianist and gospel singer, his father jazz pianist, his brothers trombone and trumpet players! He himself played the violin and trumpet first, before he switched to guitar. He also played with ao Art Blakey, Roy Haynes, Slide Hampton and Sam Rivers.
Craig Taborn – keyboardist from New York – has created a completely 'own' musical language, and in that sense is truly unique. Very talented and now widely seen asone of the most innovative keyboard players of his generation. His own music is complex, multilayered and always intense. It is innovative contemporary improvised music.
He plays the piano, but also synths (Moog) and Fender Rhodes. He not only played jazz and free improvisation, but also dark ambient and techno  He was inspired by Cecil Taylor. In the Netherlands we've seen him perform more than once in the bands of Dave Holland, Dave Douglas, Chris Potter and James Carter. He played with many more leading musicians: David Binney, Reid Anderson and Dave King (The Bad Plus), Thomas Stanko, Drew Gress and others. He has won several awards, ao the Paul Acket Award (2012) , Downbeat 's Rising Star in the category Piano and Electric Organ and Keyboards.
A Blog including 4 video's about Craig Taborn is HERE on this website