Lekker tegendraadse jazz & impro


De Beren Gieren is een jong pianotrio met een tamelijk mallotige bandnaam. Het trio maakt energieke, aanstekelijke innovatieve jazz met tegendraadse improvisaties.
Deze maand speelt het trio een paar concerten in Nederland en België samen met Oerknal!, een ensemble dat muziek speelt van hedendaagse componisten. Op het programma staan o.a stukken van John Zorn, David Bird and Lewis Nielson, naast composities van Fulco Ottervanger.
12-12 Paard van Troje Den Haag; 20-12 Bimhuis Amsterdam; 29-1-15 De Singer Rijkevorsel; 30-1 Handelsbeurs Gent.

In hun eigen woorden bevindt De Beren Gieren zich 'in het schemergebied tussen de verwachting en de verrassing'. Klassiek, jazz en hedendaags worden door het trio uit hun vaste grenzen losgeweekt. Het resultaat is een mix van jazz, rock en klassiek geïnspireerde improvisaties die fris en spannend klinkt, zonder de roots in de jazztraditie te vergeten. En die grote muzikaliteit verraadt, in combinatie met veel gevoel voor humor en relativering.
DBG past dus goed in het rijtje van vernieuwende trio's als Kapok en Tin Men & The Telephone: jong & brutaal; dwars over de grenzen van genres en stijlen heengaand en zich daarmee uitend in een eigen taal.

DBG werd in 2009 in Gent opgericht rond de Nederlandse pianist Fulco Ottervanger. Met Lieven Van Pée – bas, Simon Segers – drums
De jazzwereld gelooft in De Beren Gieren. Vanaf 2012 tot en met 2013 waren ze Artist in Residence van het Gentse Kunstencentrum Vooruit. Het trio had afgelopen zomer veel succes op het Northsea Jazz Festival en ook op festival Jazz International Rotterdam. Ze speelden op gerenommeerde internationale showcase-festivals als 12 Points en Jazzahead! Bremen en in september 2012 ontvingen zij drie prijzen op Jazz Hoeilaart, waaronder de hoofdprijs. Hun tweede album 'a raveling' ontving lovende recensies in de Vlaamse en Nederlandse pers.

De groep gaat ook nieuwe samenwerkingen aan met andere musici, bijvoorbeeld Jan Klare, Ernst Reijseger, Joachim Badenhorst, de Portugese trompettiste Susana Santos Silva en Louis Sclavis.
* Wat betekent de naam 'De Beren Gieren'? Hard lachende beren? Iets met gier en beer in de betekenis van mest? Gieren, de vogels? Kom er maar eens achter…
ENGLISH
Nice recalcitrant jazz and improvisation
De Beren Gieren is a young piano trio with a pretty crazy band name. The trio makes energetic, catchy innovative jazz improvisations. In their own words De Beren Gieren finds itself 'in the gray area between the expectation and surprise'. This month the trio plays a few concerts in the Netherlands and Belgium together with Oerknal! (Big Bang), an ensemble that plays music of contemporary composers. The program includes pieces by John Zorn, David Bird and Lewis Nielson, alongside compositions by Fulco Ottervanger.
12-12 Paard van Troje, Den Haag; 20-12 Bimhuis; 29-1-15 De Singer Rijkevorsel,; 30-1 Handelsbeurs Gent. The concert at the Bimhuis can be heard via the live stream van Bimhuis Radio (20:00 pm)
Classical, jazz and contemporary music get detached from their fixed boundaries. The result is a mix of jazz, rock and classical-inspired improvisations that sound fresh and exciting, without forgetting the roots in the jazz tradition. And showing great musicality, coupled with a great sense of humor and perspective.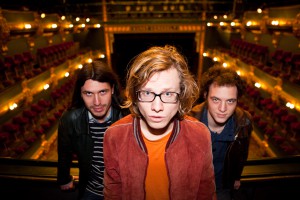 (photo Reinout Hiel).
DBG is thus part of the series of innovative trios as Kapok and Tin Men & The Telephone: young and brutal; crossing the boundaries of genres and styles and expressing itself in its own language.
DBG was founded in Gent in 2009 by the Dutch pianist Fulco Ottervanger. With Lieven Van Pée – bass and Simon Segers – drums.
The jazz world believes in De Beren Gieren. From 2012 to 2013 the were Artist in Residence of the Vooruit (venue in Gent). The trio had great success last summer at the North Sea Jazz Festival and also at Jazz International Festival in Rotterdam. They played at prestigious international showcase festivals as 12 points and Jazzahead! Bremen and in September 2012 they received three awards at Jazz Hoeilaart, including the top prize. Their second album 'a raveling' received great reviews in the Flemish and Dutch press.
The group also collaborates with other musicians, such as Jan Klare, Ernst Reijseger, Joachim Badenhorst, Portuguese trumpetplayer Susana Santos Silva and  bassclarinettist Louis Sclavis. * What does that name mean: De Beren Gieren? Anybodies guess……