Heavy Stuff
"Beatmakers will be sampling this guy… for years to come." (All Music)
Als dat over je geschreven wordt ben je een heel eind op weg naar beroemdheid.
Mark Guiliana heeft een flinke cultstatus opgebouwd als drummer die thuis is in zowel hardbop als nieuwe beats uit hiphop en elektronische dansmuziek. Een drummer die alles kan. 
Guiliana laat de grens tussen akoestische en elektronische jazz moeiteloos vervagen. Zijn spel gaat langs jazz, soul, rock, via dub en grooves naar drum 'n' bass en andere electronics. Hij beheerst het allemaal. Ook internationaal krijgt hij steeds meer erkenning voor zijn creatieve en innovatieve drumstijl.

Dit najaar is hij op tournee in Europa met zijn akoestische Mark Guiliana Jazz Quartet. Dit jaar ook verschijnt het eerste album van de band, Family First.
3-10 LantarenVenster Rotterdam; 4-10 Vrijstaat O, Oostende België; 9-10 Bimhuis Amsterdam; 10-10 Paradox Tilburg
Mark Guiliana – drums, Jason Rigby – tenorsax, Fabian Almazan – piano, Chris Morrissey – bas


Vorig jaar was Guiliana's progressieve en conceptuele benadering van de drums opeens te horen op Mehliana: Taming the Dragon, een baanbrekende samenwerking met toetsenist Brad Mehldau. 
Mehldau zei over hem: "Mark weet de mogelijkheden van de drums uit te breiden. Hij pakt invloeden uit electronische gegenereerde muziek en loops, en brengt dat terug naar een akoustische, real-time setting. Dat werkt erg bevrijdend; het opent een nieuwe dialoog tussen electronische en geimproviseerde muziek"
Brad Mehldau zelf is in dit duo ook uitsluitend met electronische keys aan het werk. De manier waarop hij stukken deconstrueert (uit elkaar rafelt) en ze daarna weer in elkaar zet (maar op een veranderde manier) past hij in dit duo opnieuw toe. Met Guiliana lijkt dat een koud kunstje 😉

Mark Guiliana (1980, New Jersey) is muzikant, componist, docent en producer. Hij toerde met o.a. Brad Mehldau, Meshell Ndegeocello, Gretchen Parlato, Avishai Cohen, Lionel Loueke, Now Vs. Now, Dhafer Youssef en zijn eigen groepen Heernt en Beat Music. En hij drumde op David Bowie's nieuwste single, Sue (Or In A Season Of Crime). Hij speelde mee op meer dan 30 albums.
Mark Guiliana met het Avishai Cohen Trio, waarin toen ook nog de piepjonge pianist Shai Maestro. Inmiddels hebben deze drie musici allemaal een eigen carrière als bandleider.

Daarnaast richtte hij het label Beat Music Productions op. Hierop bracht hij in 2014 de albums My Life Starts Now en Beat Music: The Los Angeles Improvisations uit.

ENGLISH

Heavy Stuff

"Beat Makers will be sampling this guy … for years to come." (All Music)
When this is written about you, you're well on your way to fame!
Mark Guiliana has built up quite a cult status as a drummer who is familiar with both bebop and new beats from hip hop and electronic dance music. A drummer who can play everything. Guiliana makes the boundaries between acoustic and electronic jazz fade effortlessly. His playing goes from jazz, soul, rock, dub and grooves to drum 'n' bass and other electronics. He controls it all. Internationally he is becoming recognized more and more for his creative and innovative drumming style. This fall he is on tour in Europe with his acoustic Mark Guiliana Jazz Quartet. This year also the first album of the band appears, Family First.
3-10 LantarenVenster Rotterdam; 4-10 Vrijstaat O, Ostend Belgium; 9-10 Bimhuis Amsterdam; 10-10 Paradox Tilburg
Mark Guiliana – drums, Jason Rigby – tenor saxophone, Fabian Almazan – piano, Chris Morrissey – bass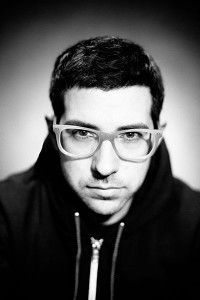 Last year Guiliana's progressive and conceptual approach to the drums suddenly was heard in Mehliana: Taming the Dragon, a groundbreaking collaboration with pianist Brad Mehldau. Mehldau said about him: 'Mark is expanding what is possible with the drum set. He's taking influences from electronically generated and looped music, and putting it back in an acoustic, real-time setting… it's very liberating and opens up a new dialogue between electronic music and improvised music'
. Brad Mehldau himself in this duo also exclusively works with electronic keys. The way he deconstructs pieces and then reassembling them (but in a changed way), he uses again in this duo. With Guiliana that seems a piece of cake 😉
Mark Guiliana (1980, New Jersey) is a musician, composer, teacher and producer. He toured with, among others, Brad Mehldau, Meshell Ndegeocello, Gretchen Parlato, Avishai Cohen, Lionel Loueke, Now Vs. Now, Dhafer Youssef and his own groups Heernt and Beat Music. He drummed on David Bowie's latest single, Sue (Or In A Season Of Crime). He has also appeared on over 30 recordings to date.
He founded the label Beat Music Productions.through which he released the albums My Life Starts Now and Beat Music in 2014: The Los Angeles Improvisations comes out later this year.