Vrije Impro met een lange adem

"Je duikt in het zwembad, tegelijk met anderen, en probeert samen de overkant te halen". Zo typeert Han Bennink het begrip Vrije Improvisatie in de muziek. 
Zonder afspraken, regels of instructies ter plekke iets bedenken, creëren. Omgaan met de toevalligheden die op je weg komen.
Spannend om te doen – en vaak ook om te volgen. Als luisteraar ben je een beetje 'part of the process' bij het volgen van een muzikale zoektocht.
Maar spelen zonder afspraken heeft natuurlijk risico's: blijven de musici met elkaar op eenzelfde pad? Hoe reageren ze op elkaar? Luisteren ze goed naar elkaar of gaat het langs elkaar heen? Is er samenhang; hoe brengen de musici elkaar verder?
Veel musici in Nederland zijn hier erg goed in: Wilbert de Joode, Ab Baars, Han Bennink, Michael Moore, Yedo Gibson, om er eens een paar te noemen.
Ook rietblazer Tobias Klein is een overtuigd adept van de vrije improvisatiemuziek. Sinds 3 jaar vormt hij een trio met drummer Martin van Duynhoven en bassist Gonçalo Almeida. Na een tijd van experimenteren heeft het trio een repertoire ontwikkeld waarin invloeden doorklinken van de vrije jazz uit de jaren 60 en 70 (Ornette Coleman, Henry Threadgill), maar ook uit hedendaagse gecomponeerde muziek. Op de net uitgebrachte CD Vibrate in Sympathy (Clean Feed) staan 9 stukken, die van begin tot einde blijven boeien.
De musici nemen alle vrijheid om eigen lijnen te creëren, terwijl ze ondertussen heel goed naar elkaar luisteren. Niemand speelt een noot teveel. In alle rust komt er zo een soms vrij kaal, soms redelijk druk klinkende muziek tot ontwikkeling. Op een of andere manier weten alle drie de musici een soort lange lijn te bewaken, waardoor de muziek een waarachtig soort consequentheid en consistentie behoudt. De invloed van musici als Ornette Coleman en ook (vrije) drummer Sunny Murray is nooit ver weg.

Veteraan Martin van Duynhoven is een van de meest prominente drummers van Nederland. Hij speelde in zijn lange carrière niet alleen veel geschreven, maar ook heel veel vrije noten! Bassist Gonçalo Almeida haalt alles uit zijn contrabas, van gestreken lange noten tot percussieve, agressief klinkende snelle staccato's. Tobias Klein laat basclarinet en altsax enigszins rauw klinken en laat zich nergens van zijn pad afbrengen. De moeite waard!
24-9 Pletterij Haarlem; 25-9 TivoliVredenburg Utrecht; 27-9 Artuarium Den Bosch; 4-10 Jazz in Crooswijk Rotterdam; 7-10 De Ruimte Amsterdam Noord; 8-10 Brebl Nijmegen
Tobias Klein speelt vooral altsax en basclarinet, soms ook contrabasclarinet. Improvisatiemuziek en hedendaagse jazz, verrijkt door zijn studie moderne gecomponeerde muziek en live-electronica.
Hij verhuisde in 1990 van Duitsland naar Amsterdam, om daar aan het conservatorium te studeren. Met studiegenoten richtte hij eind jaren 90 het muzikantencollectief TryTone op. Trytone geeft CD's uit en de leden schrijven muziek voor 'bigtet' Tetzepi. Ook organiseert Trytone concerten in het Amsterdamse Zaal 100 en zoekt contact met generatiegenoten uit andere Europese landen, met wie vanaf 1998 het European TryTone Festival op poten werd gezet. Het muzikale credo van TryTone luidde 'New Ways of Jazz', en dat uitte zich in het mengen van jazz en geïmproviseerde muziek met invloeden uit rock, wereldmuziek (India), hedendaagse gecomponeerde muziek en elektronica. Die muzikale koers vertaalt zich ook in de muziek van de groepen waarvan Tobias Klein de (co-)leider is, zoals Man Bites Dog, en het Spinifex Orchestra. Hij speelt/speelde verder oa met Balkan Clarinet Summit, Fidan (van zangeres Esra Dalfidan) en met duo Oguz Buyukberber/Tobias Klein.
In 2010 kreeg Klein de compositie-opdracht van het North Sea Jazz Festival en Muziek Centrum Nederland. Hij voerde die uit met een nieuw trio, Lackritz, met zangeres Kristina Fuchs en gitarist Raphael Vanoli. Het trio maakte ook gebruik van allerlei elektronica.

Martin van Duynhoven is samen met Han Bennink, John Engels en Pierre Courbois een van de meest gerenommeerde jazzdrummers van Nederland uit de bebopgeneratie van de jaren zestig en zeventig. Deze vier slagwerkers hadden ook samen een kwartet genaamd BCDE – naar de eerste letter van de achternamen, en vaak uitgevoerd als vier opeenvolgende noten.

In de afgelopen jaren speelde Van Duynhoven oa met het Ab Baars Trio (met bassist Wilbert de Joode). Van Duynhoven studeerde aan het Conservatorium van Tilburg en later in New York met een studiebeurs van het Ministerie van CRM. Ook studeerde hij af aan de Kunstacademie in Den Bosch en was vele jaren lang werkzaam als als grafisch ontwerper, oa bij de Amsterdamse Uitkrant.
Hij speelde oa in het Theo Loevendie Kwartet en Consort; in zijn eigen Martin van Duynhoven Percussie Ensemble (1976-1984) (met 4 of soms meer drummers); in het Nederlands Blazers Ensemble, de Waterland Bigband (Loek Dikker), de Spring Band (Willem van Manen)
Hij was betrokken bij meerdere muziektheaterproducties; deed vele soloconcerten en schoolconcerten. In 1985 was hij slagwerker bij Theo Loevendie´s opera 'Naima'.
In 1984 won hij de Boy Edgar Prijs.
Gonçalo Almeida komt uit Portugal, studeerde in Rotterdam en speelt oa in Spinifex, LAMA (met trompettiste Susana Santos Silva) en Albattre.
ENGLISH
Free Improvisation with perseverance
"You dive in the pool, at the same time with others, and try to reach the other side together." Han Bennink typifies the concept of Free Improvisation in music like this. Without rules or instructions create music on the spot. Dealing with the coincidences that come your way. Exciting to realize – and also to watch and experience as an audience. As a listener, you are a bit 'part of the process' following the musicians on a musical quest.
But playing without rules obviously has risks: will the musicians stay together on the same path? How do they interact? Do they listen carefully to each other or is it every man for him self? Is there consistency in what they are doing?
Many musicians in the Netherlands are very good at it: Wilbert de Joode, Ab Baars, Han Bennink, Michael Moore, Yedo Gibson, to name a few.
Also reed player Tobias Klein is a convinced follower of the free improvisation. 3 years ago he formed a trio with drummer Martin van Duynhoven and bassist Gonçalo Almeida. After a period of experimenting, the trio has developed a repertoire in which the sound of free jazz from the 60s and 70s can be heard (Ornette Coleman, Henry Threadgill), but also contemporary music. On the just-released CD Vibrate in Sympathy (Clean Feed) are nine pieces that hold the attention from start to finish.
The musicians take the freedom to create their own lines, while listening very carefully to each other. No one plays a note too many. It leads to a sometimes quite bare, sometimes quite full sounding music. In one way or another all the musicians know how to monitor a long line, which gives the music a true type of consistency. The influence of musicians like Ornette Coleman and (free) drummer Sunny Murray is never far away.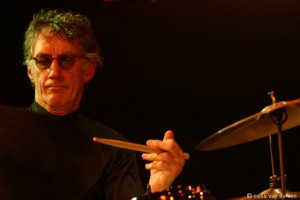 (photos Cees van de Ven)
Veteran Martin van Duynhoven is one of the most prominent drummers of the Netherlands. In his long career he has palyed a lot of written music, but also a lot of free jazz! Bassist Gonçalo Almeida gets the most out of his bass, from long notes with the bow to percussive, aggressive sounding rapid staccato's. Tobias Klein makes bass clarinet and alto saxophone sound somewhat raw and stays on track all the time. Very worthwhile!
24-9 Pletterij Haarlem; 25-9 TivoliVredenburg Utrecht; 27-9 Artuarium Den Bosch; 4-10 Crooswijk Jazz Rotterdam; 7-10 Space Amsterdam Noord; 8-10 Brebl Nijmegen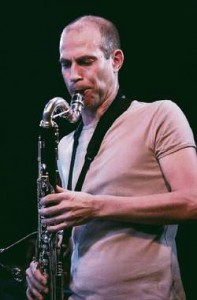 Tobias Klein plays alto saxophone and bass clarinet. Improvisation music and contemporary jazz, enriched by studying contemporary composed music and live electronics.
He moved from Germany to Amsterdam in 1990 to study at the conservatory there. With fellow students he founded musicians-collective TryTone in the late 90s. Trytone released CDs and its members wrote music for bigtet 'Tetzepi. Trytone also organized concerts in Amsterdam Zaal100 and got in contact with peers from other European countries with whom the European TryTone Festival was put on its feet since 1998. The musical credo of TryTone was' New Ways of Jazz', which manifested itself in the blending of jazz and improvised music with influences from rock, world music (India), contemporary music and electronics. A musical direction which is also reflected in the music of the groups where Tobias Klein is (co-) leader, like Man Bites Dog, and the Spinifex Orchestra. He plays / played furthermore with ao Balkan Clarinet Summit, Fidan (singer Esra Dalfidan) and duo Oguz Büyükberber / Tobias Klein.
In 2010, Klein was awarded the composition assignment from the North Sea Jazz Festival. He performed with a new trio, Lackritz, with singer Kristina Fuchs and guitarist Raphael Vanoli. The trio also made use of all kinds of electronics.
Martin van Duynhoven is one of the most renowned jazz drummers of the Netherlands from the bebop generation of the sixties and seventies, together with Han Bennink, John Engels and Pierre Courbois. These four percussionists had a quartet called BCDE – the first letter of the surnames, and often performed as four consecutive notes. In recent years Van Duynhoven played with the Ab Baars Trio (with bassist Wilbert de Joode). Van Duynhoven studied at the Conservatory of Tilburg and later on in New York with a scholarship from the Ministry of Culture. He also graduated from the Art Academy in Den Bosch and for many years worked as a graphic designer, ao for the Amsterdam Uitkrant.
He played in Theo Loevendie Quartet and Consort; in his own Martin van Duynhoven Percussion Ensemble (1976-1984) (with four or more drummers); in Dutch Wind Ensemble, the Waterland Bigband (Loek Dikker), the Spring Band (Willem van Manen) He was involved in several musical theater productions; did many solo concerts and school concerts. In 1985 he was percussionist in Theo Loevendie's opera "Naima". In 1984 he won the Boy Edgar Prize.
Gonçalo Almeida comes from Portugal, studied in Rotterdam and playes at a Spinifex, LAMA (with trumpeter Susana Santos Silva) and Albattre.