Energieke en catchy lyrische jazz
CD Lighthouse (Rosen records)

4 jaar na zijn debuutalbum is pianist Gideon van Gelder terug met een nieuwe plaat: Lighthouse.
Net als op zijn vorige album energieke jazz, lyrische melodiëen, mooie vocale lijnen, soms ritmische complexiteit, uitbundige soloos.
Woensdag 24-9 Paradox, Tilburg, donderdag 25-9 LantarenVenster Rotterdam, zaterdag 27-9 Bimhuis, Amsterdam
Als pianist groeide Van Gelder op met veel jazz & improvisatie en ook klassieke muziek. Inmiddels is hij ook toetsenist, die zijn invloeden zoekt en vindt in pop, elektronica,  braziliaanse muziek, hiphop en gospel. Op deze plaat echter horen we hem alleen op piano.
Nieuw in zijn kwintet is slagwerker Jamire Williams – een strak, vrij en tegelijkertijd licht spelend 'drumbeest'. Becca Stevens neemt de vocals voor haar rekening – en dat is altijd in een rol-zonder-tekst, als een vokaal instrument eigenlijk. Daarnaast Lucas Pino – sax en (mooi in de muziek mengende) basclarinet, Rick Rosato op bas en Gideon van Gelder op piano.
Lighthouse, het vervolg op het spraakmakende debuut Perpetual, wordt op zaterdag 27 september in het Bimhuis gepresenteerd. In de drie hierboven genoemde concerten wordt Becca Stevens vervangen door zangeres Lilian Vieira (bekend als leading lady van de internationaal succesvolle Braziliaans-Nederlandse band Zuco 103), waarmee van Gelder ook een duo vormt met braziliaanse muziek.

Gideon van Gelder speelde met een eclectische lijst van musici, bijvoorbeeld saxofonisten Benjamin Herman, Lars Dietrich, zanger Jose James, trompettist Takuya Kuroda. Naast zijn bestaan als musicus is hij inmiddels ook bijna afgestudeerd als arts/psychiater.
 Gideon – broer van saxofonist Ben van Gelder – verhuisde in 2007 naar New York, waar hij les kreeg van Vijay Iyer en Craig Taborn. Twee pianisten die de combinatie van jazz, improvisatie en complexe hedendaagse muziek tot grote hoogte hebben gebracht. Gideon maakte naam als begeleider van zanger José James, onder meer op het album Blackmagic, en hij vormde zijn eigen band met musici uit New York.
met sextet, van Perpetual:

ENGLISH
Energetic, catchy lyrical jazz.
CD Lighthouse (Rosen records)
Four years after his debut album pianist Gideon van Gelder releases a new album: Lighthouse.
As on his previous album energetic jazz, lyrical melodies, beautiful vocal lines, sometimes rhythmic complexity, exuberant soloos.
Wednesday 24-9 Paradox, Tilburg, Thursday 25-9 LantarenVenster Rotterdam, Saturday 27-9 Bimhuis, Amsterdam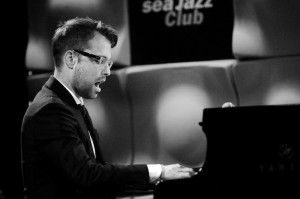 ( photo Ron Beenen)
As a pianist Van Gelder grew up with a lot of jazz and improvisation and classical music. Now, he is also keyboardist who seeks and finds his influences in pop, electronic music, Brazilian music, hip hop and gospel. On this record, however, we only hear him on piano.
New in his quintet is drummer Jamire Williams – a tight and yet light playing "drum beast'. Becca Stevens takes account for the vocals – always in a no-text-role, as a vocal instrument actually. Additionally, Lucas Pino – sax and (beautifullly blending in) bass clarinet, Rick Rosato on bass and Gideon van Gelder on piano.
Lighthouse, the sequel to the acclaimed debut Perpetual, is presented in the Bimhuis on Saturday, September 27th. In the three concerts mentioned above Becca Stevens replaced by singer Lilian Vieira (known as the leading lady of the internationally successful Brazilian-Dutch band Zuco 103), with whom van Gelder also forms a duo with Brazilian music.
Gideon van Gelder played with an eclectic list of musicians, such as saxophonist Benjamin Herman, Lars Dietrich, vocalist Jose James, trumpeter Takuya Kuroda. In addition to his life as a musician, he is now almost graduated as a doctor/psychiatrist. Gideon – brother of saxophonist Ben van Gelder – moved in 2007 to New York, where he was taught by Vijay Iyer and Craig Taborn. Two pianists that have brought the combination of jazz, improvisation and complex contemporary music to great heights. Gideon made his name as sideman of vocalist José James, including in the album Black Magic, and he formed his own band with musicians from New York.