Koploper in de innovatieve jazz
Jazz pianist Jason Moran kwam als een komeet binnen in de jazzscene in de late jaren '90. 
Hij vestigde heel snel zijn naam als vernieuwer, iemand die muzikale risico's nam. Sinds die tijd heeft hij zijn genialiteit als performer bewezen op alle mogelijke manieren: in improvisatie, compositie, repertoire, techniek en experiment.
Moran legt als geen ander de link tussen avant garde jazz, klassieke piano, hiphop en gesproken woord, en jazz van alle tijden.  Moran en zijn groep The Bandwagon – met bassist Tarus Mateen en drummer Nasheet Waits – kregen verdiend de reputatie als 'de toekomst van de jazz'.
Te horen op 30-10 Bimhuis Amsterdam, 31-10 Vrijstaat O, Oostende, 1-11 MC Frits Philips Eindhoven
Hieronder: meespelend met Turkse stemmen in een telefoongesprek
https://www.youtube.com/watch?v=TpHq_cRKGyw
Naast multimedia-projecten gewijd aan Thelonious Monk en Fats Waller bevat zijn werk ook invloeden uit comedy en hedendaagse kunst. Hij vond o.a. inspiratie in het werk van edgy 20e eeuwse schilders als Jean-Michel Basquiat en Egon Schiele.
Moran & Bandwagon improviseren met en bij skaters in San Fransisco
http://vimeo.com/84551778
Jason Moran is boegbeeld van de nieuwe jazzgeneratie sinds hij in één jaar de Downbeat Critics Polls won in de categorieën jazzartiest, pianist en album (voor de Blue Note-cd Ten, uit 2010).
Moran heeft ook gespeeld en opgenomen met een veel andere musici w.o. Charles Lloyd, Cassandra Wilson, Joe Lovano, Don Byron, Steve Coleman, Lee Konitz, Von Freeman, Christian McBride, Ravi Coltrane, The Bad Plus en Bill Frisell.
Jason Moran and the Big Bandwagon's 2009 original interpretation of Thelonious Monk's 1959 Town Hall performance.
http://vimeo.com/12286174
ENGLISH
Frontrunner in innovative jazz
Jazz pianist Jason Moran rocketed into the jazz scene in the late 90s like a comet. He very quickly established his reputation as an innovator, someone who took musical risks. Since that time he has proven a brilliant performer in all possible ways: improvisation, composition, repertoire, technique and experiment.
Moran as no other makes the connection between avant garde jazz, classical piano, hip hop and spoken word, and jazz of all time. Besides multimedia projects dedicated to Thelonious Monk and Fats Waller his work also includes influences from comedy and contemporary art. He found himself, among other things, inspired by the work of edgy 20th century painters such as Jean-Michel Basquiat and Egon Schiele.
Moran and his group The Bandwagon – with bassist Tarus Mateen and drummer Nasheet Waits – rightly earned the reputation as "the future of jazz."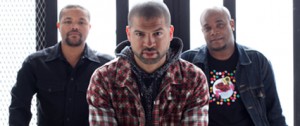 Jason Moran is kind of a frontrunner for the new jazz generation since he won the Downbeat Critics Polls  in one year in the categories of jazz artist, pianist and album (for the Blue Note CD Ten, from 2010).
Moran also played and recorded with many other musicians such as Charles Lloyd, Cassandra Wilson, Joe Lovano, Don Byron, Steve Coleman, Lee Konitz, Von Freeman, Christian McBride, Ravi Coltrane, The Bad Plus and Bill Frisell.