Energieke akoustische jazz
Het Tingvall Trio van de Zweedse pianist Martin Tingvall maakt naam in Europa met energieke akoestische jazz die hier en daar doet denken aan dat andere baanbrekende Zweedse pianotrio E.S.T. van pianist Esbjörn Svensson. 
Mooie melodieën, invloeden uit de Scandinavische folkmuziek, maar ook eenduidige 4-in-de-maat rock ritmes en jazzimprovisaties. Gespeeld met de juiste dosis elegantie én energie.
Hier op Jazzahead Bremem in 2014 (muziek begint op plm 1:40)

Drummer Jurgen Spiegel heeft een goed hoorbare rock- en hiphop-achtergrond en de Cubaanse afkomst van contrabassist Omar Rodriguez Calvo (die ook speelt met de cubaanse pianist Ramón Valle) zorgt voor een zekere latin-feel. Calvo kan trouwens ook prachtig strijken op de contrabas, bijvoorbeeld om een hoge melodie mee te spelen.
Vorig jaar kwam Beat uit, al weer het zesde album van dit productieve driemanschap. Op dat album laat bandleider en componist Tingvall zowel zijn poëtische als zijn meer donkere, cryptische kant zien.
10-9-15 Bimhuis Amsterdam; 11-9-15 LantarenVenster Rotterdam


Het Tingvall Trio resideert in Hamburg. In 2006 bracht Tingvall zijn eerste album uit, Skagerrak. De internationale doorbraak kwam met Vattensage in 2009. Het jaar daarop werd de groep uitgeroepen tot Best German Jazz Ensemble. In 2011 kwam het prachtige album Vägen uit, in 2013 gevolgd door het live dubbelalbum In Concert.
Het trio was ook al eerder op Northsea Jazz te horen.
Martin Tingvall speelt ook solo, schrijft ook songs voor andere artiesten, en bovendien veel reclame-tunes.

ENGLISH
Energetic acoustic jazz
The Tingvall Trio from Swedish pianist Martin Tingvall is becoming famous in Europe with energetic acoustic jazz that sometimes reminds of that other groundbreaking Swedish piano trio E.S.T. of pianist Esbjörn Svensson. 
Beautiful melodies, influenced by the Scandinavian folk music, but also straight 1-2-3-4 rock rhythms and jazz improvisations. Played with the right dose of elegance and energy. Drummer Jurgen Spiegel has a clear rock and hip-hop background and the roots of Cuban bassist Omar Rodriguez Calvo (who also plays with the Cuban pianist Ramón Valle) adds some Latin feel. Calvo uses the bow on the double bass beautifly sometimes, for example to play a high melody. 
Last year the album Beat was released, the sixth album already of this productive trio. On that album bandleader and composer Tingvall shows both his poetic and his more dark & cryptic sides.
10-9-15 Bimhuis Amsterdam; 11-9-15 LantarenVenster Rotterdam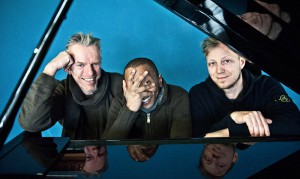 The Tingvall Trio lives in Hamburg. In 2006 Tingvall released his first album, Skagerrak. The international breakthrough came with Vattenfall Sage in 2009. The following year the group was proclaimed 'Best German Jazz Ensemble. In 2011 the stunning album Vägen came out, in 2013 followed by the live double album In Concert. The trio played on North Sea Jazz. 
Martin Tingvall plays solo, also writes songs for other artists, and also a lot of advertising tunes.